Here's all the stuff I need to get off my chest, rant about, praise a little, offend you with, or otherwise make available for everyone to read.
Contact Me
My Homies' Blogs
Crapspace Profiles of People I Know
St. Louis Blogs
My Favorite Restaurants & Bars
Cardinals Links
Other Sports Links
Local Music Links
Other Music Links
News & Weather
Logic & Reasoning
Funny Shit
Previous Posts
Archives
Quarter Life Crisis
I Sho Does Speak My Letters Right
Funny that a guy raised in St. Louis for the majority of his life has no detectable Midwestern dialect whatsoever. Maybe that's a good thing.
Your Linguistic Profile:

85% General American English

5% Dixie

5% Upper Midwestern

5% Yankee

0% Midwestern
What it Feels Like to be a Cub
I haven't done a serious sports post in a while (or a serious post about anything for that matter), so hopefully this will tide everyone over until I get a little more time on my hands.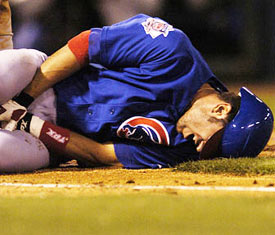 The bitter feeling of being losers.

The Things I Love About Spring
Since I'm in a good mood today, and by my accounts spring has officially started, I present to you a post with some actual original content. I give you...
The Top 10 Things I Love About Spring
The Weather
The pungent aroma of flora the air
NHL Playoffs (normally) and the start of the baseball season
Three words... Daylight Savings Time
Sitting outside watching a thunderstorm
Driving around with my windows down
Love is in the air
All the pretty girls come out of hiding... with shorts on
Burning dead animal flesh. Otherwise known as "Grillin"
Spring means summer is right around the corner
Well there you have it. I thought about adding "Thin Mint Girl Scout Cookies" to the list, but since I bought 8 boxes of those this year, I think I'll be able to ration them until at least December.
Someday soon when I'm nice and pissy maybe I'll do a "Top Ten Things I Hate About Spring". I'll save that for later though.