Quarter Life Crisis
Remembering a Season, and Looking Forward to a New
Brian Burwell from the St. Louis Post Dispatch masterfully sums up
why Cards fans shouldn't hang their heads in shame
.
Joe Strass however,
explains what's already being done
to ensure that what happened last week, won't happen again next year.
"The Curse" is over, Congrats to the BoSox
The following paragraphs are taken verbatim from a message board post that I wrote on AOL, just minutes ago.

To Boston Fans,

Your wait is over. The Red Sox deserve it. Congratulations. As a guy who lived & breathed Cardinals baseball all season long, (I only missed maybe 6 games on the TV and attended at least 20) I tip my hat to the Sox. They are my favorite AL team, and I was rooting for a Cards v. Sox World Series. I got it. Unfortunately the Cards played nothing like the Redbirds I knew all year, and on a world stage they looked like the Bad News Bears (no disrespect to the Sox, they played like champions should). I was hoping to watch a big game 7 this Sunday with all my friends (Cards and Sox fans both) and cheer until the final strike, but unfortunately destiny had different plans. Enjoy the end of the "curse" and please celebrate with passion, but be safe. Maybe we'll hook up around the same time next year.

To Cardinals Fans,

Yes, this was a miserable series, and our Redbirds didn't look like the same team we all know and love. I'm as disappointed as you are. Not that we lost, but the way that we lost. The team that was build around good base running, a solid bullpen, a meaty lineup, and taking advantage of mistakes, failed miserably in all four of those areas. But keep you chin up. We were expected to finish third in our own division this year, but came one win away from finishing with the best record in team history, and still finished with the best record in the majors, the most runs scored, and the least runs allowed in the NL (among a multitude of other record breaking stats). We got to see 112 wins (if you include the playoffs), three potential MVP's play all year, a great NLDS and NLCS, multiple come from behind victories and walk off homers..... oh, and we beat the Cubs in the season series. This was one of the best seasons in Cardinals history, World Series win or not. My greatest moment as a sports fan came just last week, as I watched Jim Edmonds bottom of the 12th, 2 run walk off homer sail right under my feet while standing in the upper deck to send our series to a game seven. Never forget this season ... old Jack sure wouldn't.


Jeff Nunn
Rngofpower@aol.com
Looks Like a Shitty Day for Baseball...
FOR THE RED SOX THAT IS!! MWA-HA-HA!!
Now the Redbirds will play up to par. All we needed was a good shit!

Happy, Horny, and American
Heh heh. Meaningless internet quizzes + South Park creators = Funny meaningless quiz.
How F**cking American Are You?!?
..... Beeotch!
Not Today, Not In Our House
I got this E-mail forward from Megan about 4 hours before the Cards beat the Astros in game 7 of the NLCS. I thought it was inspirational for Cards fans, and appropriate considering the way we won the series. I'm not sure of the origin, but if anyone knows the author, please let me know.
NOT TODAY

Busch Stadium is not our house.

So I will not waste your time this morning talking about the importance of the Cardinals protecting our house in Game 7 of the NLCS. I will not broach the obscenity of seeing Houston players spilling champagne on our living-room carpet.

Busch Stadium is not our house.

It's much more important than that.

It's where many of us watched our first game, caught our first foul ball, begged for our first autograph.

It's where Gibby ruled the mound, where Brock ran like the wind, and where Ozzie made all the folks go crazy.

It's where the El Birdos dominated, where Sutter struck out the last batter of 1982, where Mike Shannon has worked since the joint opened in 1966.

The Ol' Redhead managed there. Stan the Man played his harmonica there. The White Rat led us back to glory there.

This is where Gussie drove the Clydesdales, where Willie McGee tracked down fly balls, where Joaquin Andujar summed up his philosophy of life in one simple word: Youneverknow.

This is where Big Mac smacked No. 70, where Tommy Lawless flipped his bat, where GOOD GOD ALMIGHTY...BRUMMER'S STEALING HOME!!!!!!!

This is where the greatest St. Louis team in Busch Stadium's history performed. That's right, the 2004 Cardinals. They had the best home-record, the best record in baseball. Right on that field.

Ted Simmons played there. Kenny Boyer managed there. And a beloved old man in a bright red jacket told a mournful nation why it was good and right to play baseball after Sept. 11.

My friends, Jack Buck's coffin rested on that field. Darryl Kile pitched his last game there. And many of cannot walk into that stadium without thinking of loved ones who are no longer with us.

Not today.

We don't lose today.

Not against the Houston Astros. Not against a wild-card team.

Not in Busch Stadium.

No, it's not our house.

It's simply the place where our memories congregate, where our baseball dreams are stored, where the voices of millions of fans and the ghosts of seasons past await their call to arms.

Folks, it's time to wake 'em up.
Can we do it again?
From where I was sitting last night, I didn't get to see Jim Edmonds bottom of the 12th inning walk off home run sail over the wall. But I could tell by the swing, and the sounds, and the faces, that
everything was alright in Cardinal Nation
.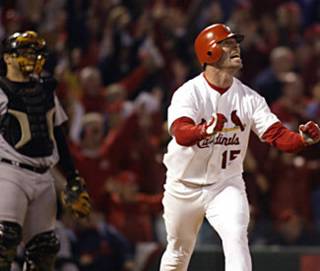 Could you ask for a better ending?

Lame Quiz
I agree with the
L-Train
, those AOL Instant Messenger games and quizzes are some pretty lame crap and mostly targeted towards 13 year old girls. Anyway, here are my results:
Your score is 12!

11-15: Whether you're 80 or 24, you're aging like fine wine. You stay true to your heart's desires, which is the perfect way to prevent old age, or youthful ignorance, from creeping into your soul.
I guess that sums me up, or at least I'd like to think so.
So I'm a Little Busy
I can't really say it better than that. Between bachelor parties, weddings, getting slammed again this week at work, and trying to keep up with the MLB playoffs, I haven't had much time the last week or two for blogging. There's a ton I wanted to write about, most of which is now old news, but I hope to get to at least some of it later in the week. For now, be satisfied knowing that I'll be attending my first ever
Cardinals playoff game tomorrow night at Busch Stadium at 7:00 PM
. I've got my fingers crossed though. Not only for the Cards, but that
the rain holds out until after the game
.
Happy Belated Bloggiversary... To Me!!
Whoops... It passed me right by. The 1 year anniversary of my first blog entry was on September 24, 2003. I suppose I'll go celebrate by downing a Bud Light and having a smoke.
Loser Bears
The team that was picked by most baseball analyst's at the beginning of the season to win the World Series continued it's 97 years of piss poor play
by failing to even make the playoffs
. The arrogant and jaded Cubs fans even had the gall to blame the Cardinals for laying down during our series with the Astros to prevent the Cubs from getting into the playoffs via the wildcard. Nevermind the fact that Houston won their last 18 home games and the Cubs lost 7 out of their last 9. All I have to say is four little words....
C
ompletely
U
seless
B
y
S
eptember.
News Flash
Ok, well.... not really. Most of this news is already a day or two old, but here are my thoughts on it anyway.
Mt. St. Helens could blow any day now
. Over the past few days seismologists have recorded hundreds of tiny earthquakes from inside the core of the mountain. Not to mention the fact that the entire north side of the mountain rose about 2 inches overnight on Tuesday evening. Could happen tomorrow, could happen next year, may not happen at all. I'm interested to see what happens.
The first privatized flight to outer space occurred this week
with the next flight set to occur on October 4th. The Spaceship One craft made it 67 miles above sea level with the equivalent weight of three people on the ship. If it successfully completes the next flight, the Spaceship One team will win the 10 million dollar "X-Prize" which is being offered to the first team to build a private spacecraft to complete two round trip journeys at least 65 miles into the atmosphere and back. They fully expect to go commercial by 2006 and have more than 3000 passengers in space by the end of the decade. At a small cost of about $250,000 per person.
The National League's least loved team has finally found a new home
. The Montreal Expos played their final home game north of the border on Wednesday night. The next time they step on the field for a home game it will be at RFK stadium in Washington D.C. for the beginning of the 2005 season. They'll play their first three seasons in Washington there while a new ballpark is being built. No one is quite sure if the Expos name will stick, but it's doubtful. They will most likely bring back the name "Senators" after Washington's last MLB team that moved to Texas to become the Rangers in 1971. Good for Washington, good for baseball.